The Mediterranean Diet, in one 100% pure plant mix.
Polyphenols from red apple peel. Punicalagins from pomegranate. Anthocyanins from wild blueberries. Bioavailable full spectrum turmeric extract. Resveratrol—without the alcohol!
Life Wild Mediterranean Reds contains a wealth of plant-pure health benefits from 100s of phytochemicals, real Indian turmeric, select citrus fruits, olive extracts, and much more.
0%

SYNTHETICS

26

SuperFoods

9.5g

Phyto-Active Nutrition

Olive & wine

Antioxidants
Lives For Pure Circulation | Heart & Brain | Joint Fluidity | Antioxidants
How To enjoy
Start your morning right with a Mediterranean superfood boost.
Measure one healthy scoop and stir into 8-10 ounces of water or add one healthy scoop to milk of choice for a delicious strawberry milk shake!
Drink up!
What's inside
Pure plants. And intentions.
At Life Wild, our mission is to make health whole. Sip well knowing our nourishing supplements are as botanically pure and culturally authentic as they come. With ingredients grown from the ground, our mixes are never contaminated with fillers, diluents, allergens or lab-grown alternatives. Just proven, harvested nutrition to power your day.
Apple
All of the peel's goodness. Tested to contain pectin, polyphenols and more.
Cinnamon
True Ceylon cinnamon from India. Highest in antioxidants.
Turmeric
Full spectrum, real Indian extract. With ginger, lecithin and black pepper.
Olive
Polyphenol values of 5 tbsp. of high quality olive oil not found in supermarket olive oil.
Grapes
2 wine bottles' worth of resveratrol. Pure yeasted without alcohol or calories.
Fruits & Veggies
Quality sourced from local and global sources. Low-temp dried.
What is the best way to take Mediterranean Reds?
Mediterranean Reds tastes great with just water and can be taken anytime during the day with or without food. To maximize absorption, mix Mediterranean Reds with 10 oz of milk (or substitute) for a great milkshake, or with warm milk for a golden-milk-like tea. Taking the product with some fat increases the absorption of fat-soluble nutrients.
Is there any possible side effect from taking Mediterranean Reds?
No. but we suggest starting out with half the dose for a couple of days to get used to its intense ingredient profile.
How quick will I see results?
It depends on the result you are looking for. Energy increases typically within a few days. Supporting the metabolic system, or other ongoing issues could take 30 days or more for full effect. For continued benefits, take it on a regular basis.
Is Mediterranean Reds a weight loss supplement?
Mediterranean Reds incorporates some of the staples used in the traditional diet of countries bordering the Mediterranean Sea, known for its numerous health benefits, including metabolic health. The Mediterranean diet is the go-to diet for continues health benefits way beyond quick weight loss. Mediterranean Reds contains potent extracts of Olives and Grapes sourced from its best and original source - Spain, and other plant foods from around the globe for synergistic antioxidant support.
What's it taste like?
Natural palate of: Warm berry, Beetroot, Indian spice, and Pomegranates.
Where is the flavor coming from?
The flavor in our product comes from the ingredients themselves along with a small amount of "Organic Certified" flavors that are cleanly produced from plant origins. We use flavors with phyto-active components that have nutritive values, as explained in detail in our dossier. Never do we use cheap "natural flavors" which are typically produced through chemical extraction, and contains hidden carriers not listed on the label such as maltodextrin, triacetin, glycerin, propylene glycol, corn syrup, allergens, animal derivatives, and other chemicals.
What's it sweetened with?
It's lightly sweetened with carrier-free Organic Monk Fruit Extract - a true non-caloric sweetener with unique health benefits. Monk fruit has been used extensively in China for metabolic health. It's free of sugar, or chemical sweeteners, and also free of stevia.
How many mg is there of each ingredients?
We group similar ingredients together in a blend, so the label will not be confusing. Our blends consists of only a small number of ingredients and are typically equally divided between all the ingredients within each blend. For most ingredients this comes out an amount that can fill up a full capsule.
Can I take more than the recommended dose?
One daily dose is sufficient to achieve benefit. Do not exceed more than 5 times the recommended dose. This suggestion is based on the suggested therapeutic dose of some individual ingredients.
Is it California Prop 65 compliant?
Yes. Always. It is tested for heavy metals using ICP-MS.
What can I do if clumping occurs?
We don't add a bunch of "filler ingredients," so clumping might naturally occur when the product is settled on its place for a long time, or not closed properly. This does not alter the quality of the product. If this happens, simply shake the tightly closed bottle, until all the clumps break up, leave it closed for a few seconds before opening so all the powder settles back. You may also use a dry mixer or blender.
How should it be stored?
Keep the bottles tightly closed in a cool and dry place. No refrigeration is needed but refrigeration might extend the products shelf life. Once refrigerated, refrigeration becomes a requirement.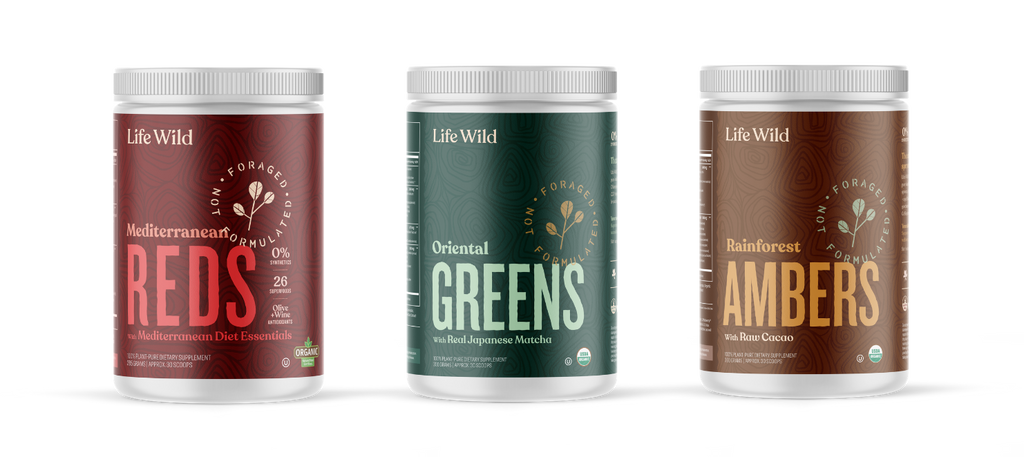 Drink the rainbow!
For a complete spectrum of phytonutrients not found in any other
supplement on the planet, bundle or alternate with the rest of the rainbow
collection, and enjoy a variety of yummy flavors