Eat the rainbow in one fell scoop
The Rainbow Collection Trio is crafted to work as a whole, synergistic nutritional system. It contains a wealth of plant-pure health benefits. With 100% plant vitamins, minerals, antioxidants and phytochemicals, these superfood powder drinks are designed to work in synergy.

In addition, you will get the benefits of cultural, indigenous nutrition sourced right from its source. Japanese Matcha, Olive and Wine antioxidants, Rainforest superfoods, sprouts and fermentates.
Two ways to enjoy!
1. Morning, noon and night—your body in balance.




Oriental Greens to jump-start your day with a gentle cleanse and vibrant energy. Rainforest Ambers as an afternoon pick-me-up for daylong energy and brain power. Mediterranean Reds as a nighttime superfood to rejuvenate your heart and joints.




2. Rotate for whole-body benefits




For a complete spectrum of phytonutrients, incorporate them all into your lifestyle. Your body functions best when you feed it different foods every day. Each day, mix a scoop of your desired supplement with 10 ounces of water, then rotate blends throughout the week.






What is the best way to use the Rainbow Trio?
The Rainbow Trio is easy to customize to your individual needs. Use it all daily for maximum benefits, or rotate for great synergy and to enjoy a range of yummy flavors. We suggest starting out with half a scoop first, and one mix per day, so you have a chance to listen to your body's response and build your personalized program to feel amazing.
What is the best way to take Oriental Greens?
To maximize the product's cleansing effect, take it the first thing in the morning on an empty stomach with 10 oz. of water, and hold off on eating for a half an hour. Many people report a great energy boost and cleansing effect when taken on an empty stomach. If you have a sensitive stomach, take it in between meals or with food.
What is the best way to take Mediterranean Reds?
Mediterranean Reds tastes great with just water and can be taken anytime during the day with or without food. To maximize absorption, mix Mediterranean Reds with 10 oz of milk (or substitute) for a great milkshake, or with warm milk for a golden-milk-like tea. Taking the product with some fat increases the absorption of fat-soluble nutrients.
What is the best way to take Rainforest Ambers?
Rainforest Ambers tastes great with just water and can be taken anytime during the day with or without food. Many customers use it as a coffee alternative, but keep in mind it is heavier than a coffee and it will also satisfy you more than a cup of coffee, it is more like an afternoon pick-me-up snack.
How quick will I see results?
It depends on the result you are looking for. Energy increases typically after half an hour. For long term whole-body health benefits take it on a regular basis.
Is the rainbow trio a diet or weight loss program?
By consuming more fruits and veggies, adding the Mediterranean diet staple foods to your regimen, incorporating superfoods that support your metabolic system, and providing your body with the right micronutrients, you might reduce your cravings, have better blood sugar levels; thus, you can end up losing weight.
What's it taste like?
Oriental Greens has get natural palate of: Orange peel, Herbal notes, Grassy earth, and The sea. Mediterranean Reds has got natural palate of: Warm berry, Beetroot, Indian spice, and Pomegranates. Rainforest Ambers has got natural palate of: Dark chocolate, Chai spices, Black seed, Coconutty.
What's it sweetened with?
It's lightly sweetened with carrier-free Organic Monk Fruit Extract - a true non-caloric sweetener with unique health benefits. Monk fruit has been used extensively in China for metabolic health. It's free of sugar, or chemical sweeteners, and also free of stevia.
How should it be stored?
Keep the bottles tightly closed in a cool and dry place. No refrigeration is needed but refrigeration might extend the products shelf life. Once refrigerated, refrigeration becomes a requirement.
Got more questions?
We have got more answers. Check out the FAQ section on each product for more Q&As.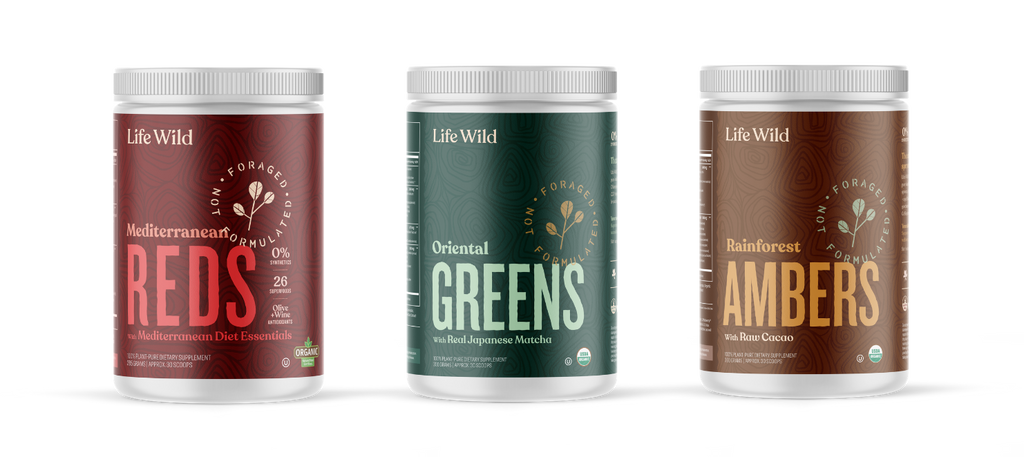 Drink the rainbow!
For a complete spectrum of phytonutrients not found in any other
supplement on the planet, bundle or alternate with the rest of the rainbow
collection, and enjoy a variety of yummy flavors